Clear your mind and ears!
Also known as thermal auricular therapy, Invented by the Hopi Tribe of North America to help ease tension in the sinuses, head and ears. This includes ear candling, ear and face massage.
Helpful for;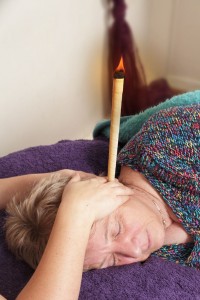 Excessive or compacted wax in the ears
Irritation in the ears and sinuses
Pressure regulation in cases of: sinusitis/rhinitis/glue ear/clods/flu/headaches/migraine
Stimulation of local and reflex energy flow
Energetic revitalisation in cases of hearing impairment
Relaxing and calming effect in cases of stress
Noises in the ears, ringing, tinnitus
Blocked ears
45 mins – £40
A course of 3 treatments is recommended, £100 for all 3 when you pay in advance!