I am a professionally-trained Holistic Practitioner. I am registered with the IIHHT, am a member of The Federation of Holistic Therapists and I am fully insured.
I became interested in becoming a holistic practitioner after suffering from a serious illness in my teens. I had always had an interest in Complementary Therapy and after using Western medicine for some years, I decided to try a combination of holistic therapies including Reiki, hypnotherapy and counselling. At this time I was advised that if I learnt Reiki I could also help myself to heal, which I did.
After two years of treatment, I was completely recovered – from something which I had been told was for life!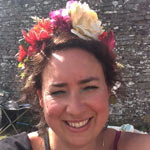 I have been a Reiki practitioner for 25 years now, reaching Master Teacher level in 2004, and I still love it. I have practiced all over the world. Ten years ago I decided to train as a Holistic Practitioner so that I could learn further techniques to help others. I am truly passionate about treating you as an individual, and I am continually striving to combine various therapies to treat you on all levels: mentally, emotionally, physically, spiritually- as a whole.
As a former support worker with people with disabilities (many of whom I treated), I have become adept at catering treatments to suit individual needs. Throughout the year I am committed to a CPD (continual professional development) programme, attending regular seminars, workshops and share groups. You can download a list of my qualifications below if you wish.
I believe that both client and practitioner alike should be fully committed to the individual healing journey. Massage therapy is the most powerful way to reconnect and feel great! It is certainly one of the most scientifically tested and researched of all the complementary and natural health therapies. So often our problems stem from a disconnection from ourselves and our truth – Massage addresses this directly. I will do my best to aid you in this journey by creating a safe space where you can come and just learn to be you.
I look forward to meeting you sometime soon,
Beth
Times I am available
Monday 6pm-9pm
Wednesday 10am-5pm
Thursday 10am-9pm
I work on an appointment only basis. For more information or to book an appointment, please contact me.
For my full terms and conditions, please click T&Cs.